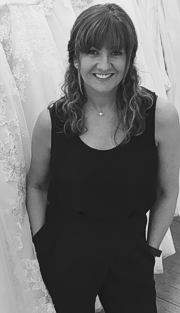 Designer Profile
A new dawn has arrived for one of Britain's most successful bridal wear designers.
After an enjoyable and successful career of six and a half years with the group Design Portfolio, we are delighted to announce that Donna Salado re-launched in September 2008 as an independent designer at BBEH.
It was a very important step for Donna Salado to go independent. Donna wants to ensure that her expertise in design, manufacture and customer service is an integral part of her range and company.
Nominated four times for Designer of the Year Donna Salado has worked tirelessly bringing up her two beautiful daughters and creating the new collections which include, Couture, Stunning, Bridesmaids and Prom wear.
Donna Salado is a classic example of somebody, successfully turning her passion into a career. Donna's enthusiasm for fashion, design and people positively shines from within and that ever so slightly 'risky' element of her personality is stamped firmly on the designs.
Donna and Shirley Salado originally launched the label in 1991 from their Northampton based studio and the collection was made on her premises. Now after 18 yrs and gaining an amazing amount of fun, friends, knowledge and experience, they have come full circle.
Many commissions later Donna Salado is once again putting her fantastic, slightly eccentric character into her designs. A Donna Salado dress is anything but run of the mill. The theatre and excitement, which sometimes disappears with age, has been ignited and is likened to the phoenix rising from the ashes.
Donna has a passion for design that is clearly demonstrated in her attention to detail and ability to turn risk into success.

One thing is for sure Donna Salado is here to stay and leave her mark on those who wear her astounding dresses.
This year Donna Salado reaches a major landmark in the bridal wear sector celebrating 25 years of continued success.
When choosing the Donna Salado brand, you choose bridal heritage designed in England.